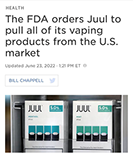 June 23rd - The FDA issued marketing denial orders to JUUL Labs Inc. to remove all of their products currently in the U.S. market. As a result, the company must stop selling and distributing and products already in the U.S. market must be removed.
June 24th - The U.S. Court of Appeals entered a temporary stay of the marketing denial orders for JUUL Labs Inc.
July 5th - The FDA announced they would make additional reviews of the JUUL product but moving forward all e-cigarette products, including JUUL, are required by law to have FDA authorization to be legally marketed.