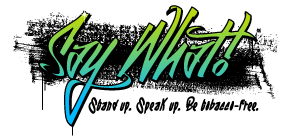 If you work with youth and are looking for guidance on how to more effectively recruit and retain them, the Say What! webinar series addresses topics related to involving youth and developing them into leaders, especially in the realm of tobacco prevention in Texas.
Say What! webinars are free to attend and are also archived for adults to access at their convenience.
Texas Tobacco-Free Youth
Recording now available
April 18th - 1:30-2:45pm - FULL
E-cigarette Prevention 101
Recording Available April 20th
June - 10:30am
Tobacco 21 Policies in Texas
If you missed one of our webinars or just want to listen in again to pick up something new, you can easily watch a recording below. Should you have an idea for a webinar topic, we'd love to hear about it at TxSayWhat@txstate.edu.
How to Involve Youth in Tobacco Prevention
Interested in hearing youth and adults talk about how to better recruit, involve and empower middle school and high school students to make a difference and help people live healthy, tobacco-free lives? This webinar features stories and lessons from a youth advocate, his former high school group sponsor, an adult that works with youth at the community level, and an adult that works with youth at the state level. You'll hear them share and discuss youth-adult partnerships, activity ideas and resources, and an annual opportunity designed to make it easy to get youth involved in tobacco prevention.
E-cigarette Prevention 101
Recording Available
April 20th
Thank you for your interest in the webinar, "E-cigarette Prevention 101", scheduled for April 18, 2018. Due to popular demand, registration has already reached capacity and has been closed.
You can view an archived version of this webinar beginning April 20th. If you have any questions, please email us at TxSayWhat@txstate.edu.
Thanks!
Phone
Toll Free: 877.304.2727
Local: 512.245.8082
Mailing Address
415 North Guadalupe - #164
San Marcos, TX 78666

Say What! was created and designed by young people from across Texas and connects students interested in eliminating tobacco from their schools and communities. The Say What! movement is funded by the Texas Department of State Health Services through a contract with the Texas School Safety Center at Texas State University.