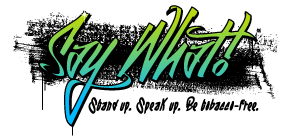 Texas tobacco-free kids day!
March 21, 2018 is Texas Tobacco-Free Kids Day (TTFKD) - an annual awareness day in Texas that encourages students of all ages to live tobacco-free lifestyles today and into adulthood. The goal of TTFKD is to get every school in Texas involved in the effort to help students make healthy choices by not using tobacco today and in the future.
Held in conjunction with Kick Butts Day, a national event sponsored by the Campaign for Tobacco-Free Kids, TTFKD is sponsored by the Texas Department of State Health Services (DSHS) and the Texas School Safety Center (TxSSC) and is an annual celebration of youth leadership and activism in tobacco prevention efforts.
On Kick Butts Day, thousands of youth throughout the country will organize activities to expose and combat the tobacco industry's powerful marketing strategies aimed at youth who aren't even allowed to legally use their products. Some of the past activities include youth-led rallies in state capitals, surveys of tobacco advertising in local stores and street activism events.
Join us for Texas Tobacco-Free Kids Day on March 21st or on any day you designate to recognize it throughout the month of March and help encourage students all across the state to live tobacco-free lifestyles! And by participating in TTFKD and reporting results to Say What!, youth groups earn the chance to win a scholarship to attend the annual Say What! Conference in July!
Give youth the tools and opportunities to discover their ability to lead and make a difference, and in the process empower them to not only to become leaders today, but to change the world for a better tomorrow!
In 2013 for TTFKD, Senator Rodney Ellis sponsored a resolution in the Texas Senate officially declaring the day Texas Tobacco-Free Kids Day.
While we all come together on one day of action for one common cause, we all "kick butts" in different ways for different reasons. In celebration of Texas Tobacco-Free Kids Day/Kick Butts Day, we want to hear your stories. What are you doing to kick butts/help people live tobacco-free lifestyles – and why? Are you advocating for policy change in your community? Do you fight tobacco in honor of a loved one? Are you encouraging a friend or relative to quit smoking?
Use these activity ideas and other stuff on our website to hold your own really cool awareness events and activities!
Let us know what you did and how everything went, and don't forget to join Say What! for even more activity and event ideas!
Thanks for working toward a Tobacco-Free Texas! Remember to TAKE ACTION and HAVE FUN on March 21, 2018 - Texas Tobacco-Free Kids Day
Phone
Toll Free: 877.304.2727
Local: 512.245.8082
Mailing Address
415 North Guadalupe - #164
San Marcos, TX 78666

Say What! was created and designed by young people from across Texas and connects students interested in eliminating tobacco from their schools and communities. The Say What! movement is funded by the Texas Department of State Health Services through a contract with the Texas School Safety Center at Texas State University.