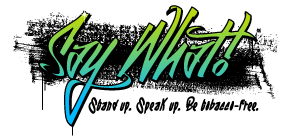 The Texas School Safety Center will host five Say What! Texas Tobacco-Free Action Summits during the spring of 2018 to empower school- and community-based organizations to invest in youth.
Each Say What! Summit utilizes service learning to train Middle School and High School students in effective tobacco prevention activities aimed at reducing the harmful effects of tobacco use in Texas. After receiving training in the morning, all student and adult participants take part in a local Community Action Event and help make a difference that same day! And as a bonus, every participant receives three hours of community service!
Funding for Say What! Texas Tobacco-Free Summits comes from the Texas Department of State Health Services and allows TxSSC to offer these elite training services FREE OF CHARGE. We cover registration fees, training materials, and meals. And all you have to do is GET THERE!!!
Feb 10 – Wichita Falls
Feb 17 – McAllen
Mar 3 – Diboll
Apr 21 – Kemah – Registration FULL
Apr 28 – San Marcos – Register by Apr 11
(all dates are Saturdays)
8:00-9:00am
9:00-11:30am
11:30am-1:00pm
1:00-3:00pm
3:00-5:00pm
Check-In & Breakfast
Action Summit begins
Working Lunch
Local Community Action Event
Action Summit concludes
Follow these simple steps to register your group to attend a free Say What! Action Summit in 2018:
1) Click on the Register Now! button to sign up, and make sure everyone from your group that wants to attend does, too!


2) Download the Emergency Contacts and Medical Info (ECMI) form.
3) Every person attending needs to fill out the ECMI form, get it signed, and make sure the Lead Adult Sponsor for your group sends it in on time.
4) Space is limited, so register by the deadline to reserve your spot. Note: You may be charged a $50 penalty per person to cover food and supply costs if you cannot make it and fail to let us know ahed of time.


5) Call Kathleen at 512.245.6231 or email TxSayWhat@txstate.edu if you have questions.
Registration Policy: 
Sponsors are responsible for returning all completed registration forms for their group (including sponsors and drivers) to TxSSC. Summit registration will not be confirmed until all forms have been received for the group. Due to space limitations, we are unable to register additional non-replacement participants onsite.
Cancellation Policy: 
Sponsors are responsible for notifying TxSSC of any and all cancellations no later than 7 days prior to the Action Summit. TxSSC may charge organizations for all cancellations or no-shows a $50 penalty per person to cover lost food and supply costs.
Phone
Toll Free: 877.304.2727
Local: 512.245.8082
Mailing Address
415 North Guadalupe - #164
San Marcos, TX 78666

Say What! was created and designed by young people from across Texas and connects students interested in eliminating tobacco from their schools and communities. The Say What! movement is funded by the Texas Department of State Health Services through a contract with the Texas School Safety Center at Texas State University.