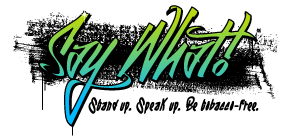 Are you ready to #LiveTheLife? The Say What! Texas Tobacco-Free Conference always strives to improve and provide the most engaging, fun, and effective experience so that every participant leaves with the ability and passion to #ActivateChange and #LiveTobaccoFree. So this summer's #SayWhatConf will offer two ways for youth and adults to get the most out of one of the best youth advocacy and leadership events in the country: the Regular Track and the Advanced Track!
Each track is designed to help both youth and adult participants make a difference in their homes, schools and communities based on their knowledge, skills and motivation to get involved in tobacco prevention. Last year, people from across Texas and around the country – Alaska, California, Indiana, Michigan, Mississippi, New Mexico, Pennsylvania, and Washington, DC – came to #MakeTobaccoHistory and left with the knowledge, skills and motivation to Stand Up, Speak Up, and Be Tobacco-Free!
The Say What! Conference will be held at the gorgeous and luxurious La Torretta Lake Resort & Spa in Montgomery, TX on beautiful Lake Conroe, which offers attendees award-winning service and amenities throughout the entire conference, including the expansive Aqua Park that features multiple pools and a lazy river for your enjoyment during free time!
The Center for Disease Control and Prevention recognizes the importance of the role that youth play in a comprehensive tobacco control program. The Texas Department of State Health Services also recognizes the role that young people play in making lasting, environmental changes concerning tobacco prevention and control. Under their direction, the Texas School Safety Center at Texas State University has designed the Say What! Texas Tobacco-Free Conference to be the first ever 100% youth-focused tobacco prevention and control conference in the state of Texas!
We are dedicated to bringing you cutting edge strategies, information, tools and techniques on youth leadership and prevention. If you are part of a youth group working on tobacco-free policy, prevention-related issues or other projects in your school or community, we invite you to join us for this elite training opportunity.
This conference focuses on the Say What! youth movement and making sure that all Students, Adults and Youth are prepared to Work Hard Against Tobacco!
2-6pm
6-7pm
7-10:30pm
8-9am
9am-12pm
12-1pm
1-5pm
5-10pm
8-9am
9am-12pm
12-1pm
1-5pm
630-730pm
730-10pm
8-9am
9-11am
Conference Check-In
Networking Dinner
Opening Activities
Breakfast
Regular/Advanced Tracks begin
Lunch
Regular/Advanced Tracks continue
Pool Party/Dinner
Breakfast
Skills Clinics
Lunch
Regular/Advanced Tracks conclude
Dinner
Mixer/Talent Show
Breakfast
Closing Session
First time at the Say What! Conference? New to tobacco prevention? The Regular Track is the best way for you to develop a strong foundation by:
Understanding where tobacco prevention has been, where it is, and where it's going,
Learning the basics of tobacco products and the consequences of using them,
Connecting with various resources that can make your efforts easier and more effective, and
After all of that, you'll get your hands dirty by creating content and planning a local project that makes a difference by inspiring youth to #LiveTobaccoFree.
If you're ready to work hard to #ActivateChange so that more people #LiveTheLife #TobaccoFree, then the Advanced Track is for you! You'll choose one of three options:
Host a big event for Texas Tobacco-Free Kids Day.
Plan and prepare to teach other youth how to

#LiveTheLife

through peer education.
Literally change the world through policy advocacy and focus on things like Tobacco 21, clean indoor air, or other policies.
The Advanced Track is only for those truly ready to #MakeTobaccoHistory, so get ready to take your tobacco prevention efforts to another level!
JULY 29- August 1, 2018
Location: La Torretta Lake Resort & Spa
Registration includes:
• 4 days/3 nights hotel (multiple occupancy)
• All meals & snacks from Sun PM - Wed AM
• Conference t-shirt
• Conference materials & supplies
• Access to Aqua Park and other resort amenities
HOW CAN your GROUP ATTEND?
1) Request a GROUP SCHOLARSHIP
• Limited number of scholarships available
• Eligibility for scholarships does not guarantee award
• No late requests will be accepted
• All scholarship requests must be made by Monday, May 7, 2018
• Winners will be notified via email by Friday, May 11, 2018
2) Register your group now
• Conference Registration fee = $450 all-inclusive!
• Space is limited
• Payment by credit card, check, or purchase order accepted
• Registration Deadline is Friday, May 18, 2018 at 11:59pm
If you have any questions, contact us at
877-304-2727 or TxSayWhat@txstate.edu
We hope to see your group at the 2018 Say What! Texas Tobacco-Free Conference at the
La Torretta Lake Resort & Spa on July 29th-August 1st!
Phone
Toll Free: 877.304.2727
Local: 512.245.8082
Mailing Address
415 North Guadalupe - #164
San Marcos, TX 78666

Say What! was created and designed by young people from across Texas and connects students interested in eliminating tobacco from their schools and communities. The Say What! movement is funded by the Texas Department of State Health Services through a contract with the Texas School Safety Center at Texas State University.